Welcome to
The Keaau Place on the Big Island of Hawaii
Each of our 2 air conditioned studios offer the privacy and cleanliness our guests have come to expect at The Keaau Place. Equipped with all the conveniences of home, you will find that it is truly possible to enjoy the Big Island away from the crowds and without busting your budget.
If visiting the island of Maui, check out our accommodations at The Guest House.
But before making your travel plans, please check with the State of Hawaii website, especially the Travel Section, to make sure that you meet any necessary requirements.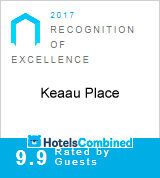 The Keaau Place
Just 11 Miles from Hilo International Airport, 25 miles from Volcano National Park! Property Caretaker is right on site and will be happy to address any concerns or answer any of your questions.
Car Rentals
Trinity Reservations offers some of the best car rental rates on the islands thru Avis and Budget. Have the convenience of picking up your car right at the airport while taking advantage of our travel agent discounted rates! Visit our Car Rentals page for more details!
Island Activities
For discounts on some of the islands best activities, visit Tom Barefoot's Activity Page to experience the awesome diversity of the islands. From helicopter tours, snorkel adventures, even star gazing from atop the world's highest mountain, Barefoots can assist you with your bucket list, and maybe save you some money at the same time.